Do you need a dump trailer rental in Denver, CO? There are many different reasons that you might need to rent a dump trailer. So, if you're running a construction business, you more than likely own one. But, sometimes you need a backup while your needs repairs or you simply need another one for short term.
Homeowners in the Denver, CO metro area sometimes need a dump trailer to get rid of shrubs, garbage, and other waste from their properties. People often need them for demolition projects related to water or sewer damage.
Dump trailers are a substantial financial commitment. They'll certainly make a dent in any budget. Sometimes purchasing one can't be justified when you don't use it often enough to make the expense worth it. At All Season's Rent All, we have a heavy duty Big Tex 14LX dump trailer for your needs in the Denver, CO metro area.
Determine What You Need
When renting a dump trailer in Denver, CO – make sure you rent the best one for the tasks you need to accomplish. So, we'll walk you through a dump trailer's useful features for heavy and medium workloads.
Dump trailers are similar in appearance. However, when you take a close look at their specifications, you'll see they have different load limits. The most common size of dump trailers is 14 feet in length. This is large enough to haul equipment like a skid steer or can hold a lot of demo items heading to the landfill.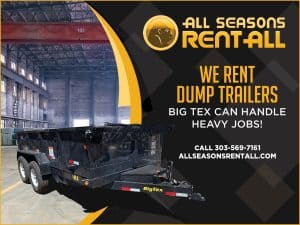 Size can help you carry more equipment. However, if your vehicle's towing limit is lower than the weight of your dump trailer, you might find it isn't the best option and be left with a piece of unusable heavy-duty equipment.
So, always check the following to determine the dump trailer strength you'll need:
  Dump trailer's carrying limit
Dump trailer load – the weight of the items you intend to haul, light or heavy
Big Tex Trailers
Big Tex trailers are the most respected manufacturer of commercial trailers in the United States. At All Season's Rent All, we want only the top-quality equipment to be available to rent.
Here is some more useful information regarding the trailer we have in stock:
Model:  Big Tex 14LX
Empty Weight: 4,000 Pounds
Payload:  8,000 Pounds
GVWR: 12,000 Pounds
Box Capacity: 6.2 Cubic Yards
Electric Brakes
Tandem Axle
Extra Wide
Low Profile
14 Foot in Length
Equipped with Tarp/Cover
Get the Best Dump Trailer Rental in Denver, Aurora, or the Entire Metro Area
When you rent from All Season's Rent All, you are renting high quality equipment at affordable prices. We are the company to contact in the Denver, CO Metro area. Contact us today at 303-569-7161.